Company profile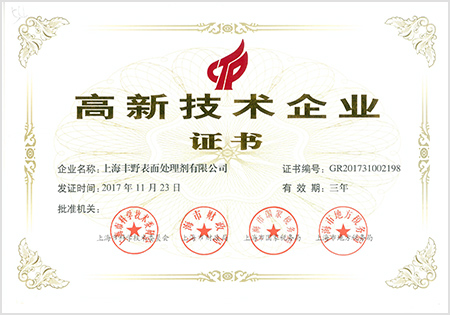 Located in Tangzhen Industrial Park, Pudong New Area, Shanghai Fengye Chemical Co ., Ltd. is a Sino-Japanese joint venture and also a high-tech enterprise specialized in the R&D, production and sales of metal surface treatment agents and related environment-friendly chemicals.
Fengye has always devoted itself to developing chrome-free, environment-friendly, energy-efficient and efficient anti-corrosion technology, developing, manufacturing and selling metal surface treatment agents and related environment-friendly chemicals, as well as product import and export. The major products include the chrome-free fingerprint-resistant / passivating treatment agents for cold-rolled galvanized steel sheets, passivants for color plates, chrome-free hydrophiling treatment agents for aluminum foil, insulation varnish for silicon steel, degreasants, etc.
Fengye owns the top R&D talents in the world. It has set up a R&D center in Shanghai, and a full-time research institute only providing development service for Fengye in Japan. Fengye has been provided with advanced modern testing instruments and production equipment. The Company obtained ISO9001 quality management system certification, ISO14001 environment management system certification and OHSAS18001 occupational health and safety management system certification successively. In 2011, Fengye was rated as National High-tech Enterprise. Its main technologies and products are leading both at home and abroad, which are widely used in the industries of steel, home appliances, automobile, ship and so on, and well received by the market and customers.
While providing quality products and satisfying services for users, Fengye also provides training for professional technicians. It is able to design process for users' new pretreatment lines, make small tests to simulate production lines, and research and supply new technologies, new products and new processes to meet diverse needs of users. The Company is marching forward in a vigorous and sound way.
Fengye invested to found Fengye New Material (Hubei) Co., Ltd. as its wholly-owned subsidiary in 2016. Fengye Industrial Park (first-stage project) located in Xianning, Hubei has been put into production after completion acceptance.
Fengye will build a world-class and environment-friendly brand for the surface treatment industry, with advanced technology and in a faithful, steadfast and up-and-coming spirit.